Chocolate Art Limited Edition Wooden Box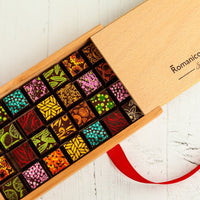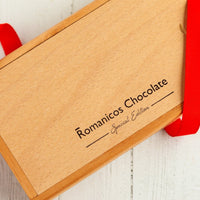 Chocolate Art Limited Edition Wooden Box
Our Chocolate Art Limited Edition Wooden Box comes with 28 exquisite dark chocolate art bonbons filled with assorted flavors. All our gourmet chocolates are handcrafted with 70% Venezuelan Cocoa, the best in the world, so that you can have a rich and indulgent chocolate experience in every bite.
The varied selection of flavors includes Dulce De Leche, Key Lime, Cranberry on Dark, Ginger on Dark, Cayenne Pepper, Bold Passion Fruit, Juicy Mango, Sparkle Champagne, Hazelnut On Dark, Pineapple Delicacy, Sunny Orange, Creamy Coconut, Guava & Cheese, Plain Dark, Nutella, Espresso Beans, Cookies & Cream, Cherry and Marzipan.
Best Part? We deliver Nationwide.