Happy Holidays Queen Size Chocolate Art Box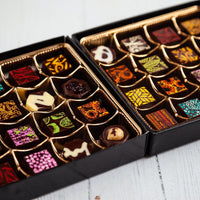 Happy Holidays Queen Size Chocolate Art Box
Celebrate this Holiday Season in the sweetest way with our festive Queen Size Chocolate Art Box. It comes with 16 delicious dark Chocolate Art Bonbons filled with assorted flavors. All our gourmet chocolates are handcrafted with 70% Venezuelan Cocoa, the best in the world, so you can have a rich and indulgent chocolate experience in every bite. This box can come with one single layer of 16 bonbons or double layered with 32 bonbons in total. You can also enjoy this box as a delightful-tasting chocolate experience by adding a second layer of our signature truffles.
The varied selection of flavors includes Dulce De Leche, Key Lime, Cranberry on Dark, Ginger on Dark, Cayenne Pepper, Bold Passion Fruit, Juicy Mango, Sparkle Champagne, Hazelnut On Dark, Blackberry Delicacy, Sunny Orange, Creamy Coconut, Guava & Cheese, Plain Dark, Nutella, Espresso Beans, Cookies & Cream, Cherry and Marzipan.
Make sure to place your order by December 19th so they can arrive on time for Christmas. We deliver nationwide.